Quella della Ca' di Ratt è una cucina rustica, fatta di piatti semplici e genuini, porzioni abbondanti e sapori d'una volta. Vi si trovano sia elementi della tradizione contadina lombarda come le polente (con formaggi, oppure salsiccia e chiodini e molte altre) e le zuppe (di cereali e legumi, creme di zucca o asparagi etc.), sia elementi culinari di altre regioni (cacciagione, paste fresche ai sughi di carne, affettati…).
Il menù alla carta comprende una vasta serie di piatti dall'antipasto al dolce, un'ampia scelta di vini e alcune birre alla spina.
Particolare attenzione è inoltre riservata alle grappe, con una scelta di prestigiose grappe riserva.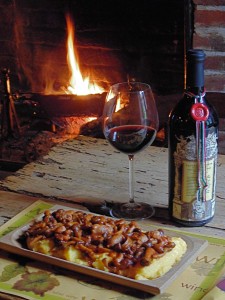 ENGLISH – The Ca' di Ratt's cooking combines elements of Lombard and Tuscan traditions. From Lombardy we takes the traditional country dishes, like polenta, risotto and stewed meats. From Tuscany, the great game meat dishes, like boar and roe.
The starters are composed with cold cuts and cheeses from many italian regions.
The wine menu includes many red and white italian wines, chosen from among the most important wines of Italy, like Chianti, Brunello di Montalcino, Morellino di Scansano…
We also propose some snacks, like bruschette, piadine and focacce, served with our excellent draft beers.
And finally we propose a selection of prestigious brandies of Monferrato.
Among the ancient Ca' di Ratt's walls you can enjoy the real traditional cooking of Northern Italy.